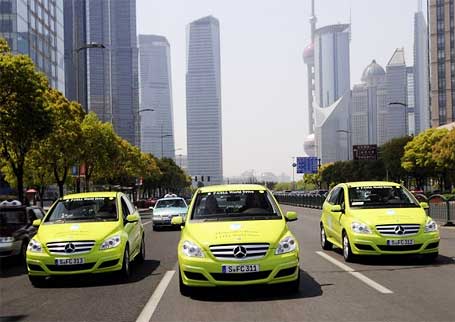 On January 10, 2011 I had talked about the F-Cell World Drive circling the globe in 125 days. The purpose of this 4 continent tour (Europe, America, Australia and Asia) was to show off the capabilities of the Mercedes B-Class F-Cell automobile plus discover interesting green subjects that need reporting along the way.
According to Daimler which owns Mercedes, "From the automobile exhibition 'Auto Shanghai' the three Mercedes-Benz B-Class F-CELL cars set off on their journey through China, which took them to the capital Beijing on 24 April. With this leg, the final and longest leg of the F-CELL World Drive began: all in all, the fuel cell powered cars will each absolve around 9000 kilometres until they again reach European soil in Russia 20 days later. From there the tour will start its homeward journey to Germany via Scandinavia. Before setting off from Shanghai, the F-CELL World Drive had already traveled half the globe: since its start at the end of January the tour successfully crossed southern Europe, North America and Australia.
//
"Within a 41-day period, the F-CELL World Drive will cross two continents and seven countries on the last leg of its round-the-world tour. During this journey, the 'green' B-Class F-CELL cars will not only capture attention in China, but also in Kazakhstan, Russia, Finland, Sweden, Norway, Denmark and Germany, as in addition to the driving days, local events are planned in each of these countries with the aim of giving fuel cell technology wide public exposure. In early June the tour will come to an end at its starting and finishing point in Stuttgart."
Now, what better way would there have been to demonstrate the durability of a fuel cell vehicle than taking it for a spin around the world? I've been saying for a while that hydrogen fuel cell cars are ready for prime time now. The supporting infrastructure, however, is lagging behind.
The major oil companies only own about 4-percent of the 162,000 filling stations in the U. S. The rest are owned by independent owners. These independent owners, "…can sell gasoline under the brand of one major company or multiple major companies, as well as have their own brand of fuel."
Some of these independents sell propane and others sell compressed natural gas (CNG). Isn't it about time that we give tax breaks and other incentives for these independents to sell hydrogen as well? This would speed up and spread out the hydrogen fueling infrastructure quickly across the country. Of course, this makes too much sense so the powers that be will never go for it.
Originally Posted: hydrogencarsnow.com