"I believe fuel cells could end the 100-year reign of the internal combustion engine." — William Clay Ford, Jr.
Henry Ford's great-grandson may well be right. As executive chairperson of the Ford Motor Company, he has to way his words. Every major automaker is now developing the "oh-so-simple" (NOT) machine, which dodged scientists and engineers longer than the automobile's existence.
Henry Ford "cranked up" the automobile industry by using the assembly line. Geoffrey Ballard "zeroed in" on the internal combustion engine to eliminate the pollution that Henry Ford did not foresee. It took the wisdom, knowledge, and determination of Ballard to 'whittle down' and improve the fuel cell to the point where most people now can hope to leave the ICE age behind and drive a zero-pollution FCEV.
To recognize a lifetime of outstanding achievement, dedication to the community and service to the nation, Dr. Geoffrey Ballard, "Father of Fuel Cell Industry", was honored by being invested a Member of the Order of Canada in 1999. He was later bestowed with the Order of the Province of British Columbia in 2003.

Photo from the Government of B.C.
Frequent tributes, accolades, honorary degrees, and awards have been granted to him over the years, too numerous to list.
It would not be right if I did not mention a few major ones from other sources: In 1999 he was named by Time as 'Hero of the Planet'. In 2002 he was named 'Business Leader of the Year' from Scientific American. He received the World Technology Network Award in Energy in 1999, and in Environment in 2000. He also received the Gutenberg International Environment Prize in Sweden in 2000. He served as chair of the Canadian Hydrogen Association and as an Advisory Board member for the Institute of Transportation Studies, University of California.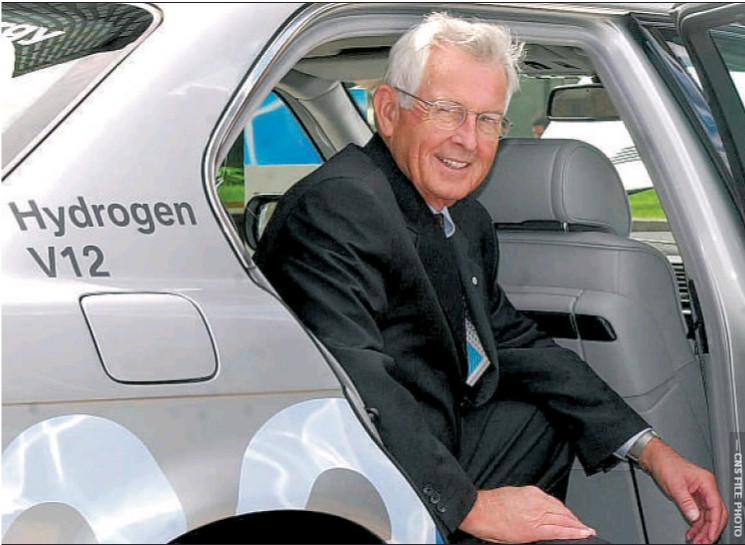 Ballard in one of BMW's 100 H2-powered cars

The two oldest automakers in existence, Daimler, and Ford, recognized Ballard's contribution and everlasting association with the transportation industry by investing in his company and establishing fuel cell manufacturing in Vancouver. Dr. Dieter Zetsche, head of Mercedes-Benz Cars said, "We will keep our technological strength on the fuel-cell side, and in case, for instance, the overall energy politics would lead to [the] production of hydrogen being a storage solution for generated power, obviously the complementary element vehicle would be fuel-cell vehicles."

In 2009, Toyota, Hyundai, Daimler, Ford, General Motors, and Honda signed an agreement to develop fuel cell vehicles and establish H2 refueling stations – real GAS stations.

Daimler is very active in bringing FCEVs to market; they completed a world tour with Mercedes-Benz B-Class F-Cell cars in 2011 and have test fleets around the world.

Ford test fleets have been running in Vancouver and elsewhere for many years. Audi and Volkswagen Group's head of Fuel Cell said, "We see our future including fuel cell vehicles," after a multi-year, multi-million dollar contract with Ballard.

What greater honor could Ballard receive than two of the wold's greatest companies joining in building another factory (besides Ford and Daimler in Vancouver) to mass-produce the product Ballard perfected: The Detroit Free Press reported: "Honda and GM collaborated on an $85 Million Fuel-Cell Factory in February of 2017, to be built in Michigan. General Motors and Honda said today that hydrogen fuel-cell vehicles are at (sic) the cusp of becoming mainstream as they announced they will invest $85 million to jointly produce advanced hydrogen fuel cell systems in Brownstown Township."

As you realize by the date above, we have arrived in the present. "Yesterday's news is history today", the saying goes. With that, my report on Hydrogen and Fuel Cell History could be coming to an end — but wait,— there is more:

Next: Personally Experiencing Hydrogen and Fuel Cell History; seeing the future at Hydrogenics in June 2005

Allow me once again to promote my eBooks, the first two titled Racing to Preserve Precious Petroleum, subsequent editions will be titled 'Racing to Preserve our Precious Planet'. Download free "Kindle for PC" or "Kindle for Mac" and read eBooks on any computer. One of the (original newspaper) articles repeated in the book prompted the invitation from Hydrogenics.

This post was originally published on this site